Congregational Life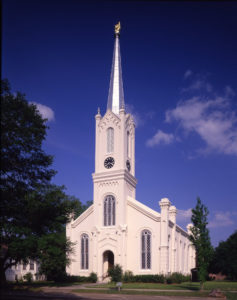 Welcome to First Presbyterian Church of Port Gibson!  We are thankful to have historic facilities that inspire historians, architects and tourists every day of the week.  But what of its people?  Who are we?  And what, in addition to our Presbyterian doctrine, do we hold dear?
Like Christians everywhere, we gather to worship our Lord and share our lives with each other.  Many in this congregation have never called any other than FPCPG their "church home," and some families have been part of this church since the War Between the States.  Others have come to us in more recent years.  But we are united in heart and spirit.
We are a small congregation with limited resources, and we cannot offer the programs that larger congregations provide.  But we do not expect the church to work for us – rather we expect to work for the church.  Although we are sinners saved by grace, we are strong in spirit, and our purpose to worship, serve and glorify God as a church family remains unchanged – no matter the challenges that face us.  That is what Christ taught us to do.
So, take time to get to know us, and let us get to know you.  Let's learn from one another and grow together in Christ.
MISSION STATEMENT
Through fellowship, teaching and service, this congregation seeks to share the truth of Jesus Christ with one another, with the community, and with the world.
CHRISTIAN EDUCATION
Sunday School Classes are held in the Annex beginning at 9:45 a.m. each Sunday morning.  Classes for adults include :
The Lindsay Disharoon class
The Younger Adults class
Children's classes are organized according to participation.
A Bible study class for adults meets Wednesday evenings at 7pm and Thursday afternoons at 1pm in the Annex.
NURSERY AND CHILDREN'S CHURCH
Parents are invited to take babies to the Nursery in the back addition of the Annex before morning worship.   During morning worship, children in Second Grade and younger are invited to come to the front pew of the Sanctuary for a lesson.  Volunteers then take them to the Annex for Children's Church and a time of play until worship is concluded.
SPECIAL EVENTS
Grand Gulf Picnics – worship services held at Grand Gulf Military Park followed by a potluck lunch each Fall and Spring.
Christmas Supper – potluck supper held each December.  An offering benefits the Gratitude Gift Offering of the Evangelical Presbyterian Church.
Christmas Pageant – performed each December since around 1920, the pageant offers children the chance to present the story of Christ's birth.
Memorial Sundays – flowers in honor or memory of loved ones are placed in the Sanctuary on Christmas and Easter Sundays, and on the Sunday closest to All Saints' Day.
Vacation Bible School – offered in cooperation with other local churches each summer.
STEWARDSHIP AND MISSIONS
Our Mission Committee meets annually to discuss mission projects.  The elders then approve those that will be listed in the bulletin throughout the year as approved giving opportunities.  Although different projects are highlighted throughout the year, at any time members may designate donations for any of these projects.  All undesignated funds are deposited into the General Fund, and used for local and Presbytery mission.
Mission Projects are selected only after careful consideration.  We strive to insure that funds only go to causes that are well-managed and that agree with Biblical Christianity.
The congregation is currently supporting two of our Presbytery's church plants in San Antonio and Austin, Texas.  We also support missionaries involved in the Engage 2025 project.  See the links page for more information on these missions.
HIGHER GOVERNING BODIES
In May of 2012, this congregation became part of the Evangelical Presbyterian Church.  In October of 2014, we became part of the new Presbytery of the Gulf South.  We are thrilled to partner with so many strong congregations, seeking to spread the gospel.